With the New Year fully underway, many of us are looking for healthy eating alternatives to our favorite dishes as we attempt to shed that holiday weight. One of the best ways to include healthy food in your diet without sacrificing flavor is through Indian cuisine. Indian food — especially tandoori dishes — contains a plethora of hidden health benefits, packing equal amounts of tastiness and nutrition in every bite.
No need to search for "Indian food near me": Simply fire up your tandoor oven to try out these three delicious (and nutritious) Indian dishes!
Indian Flatbread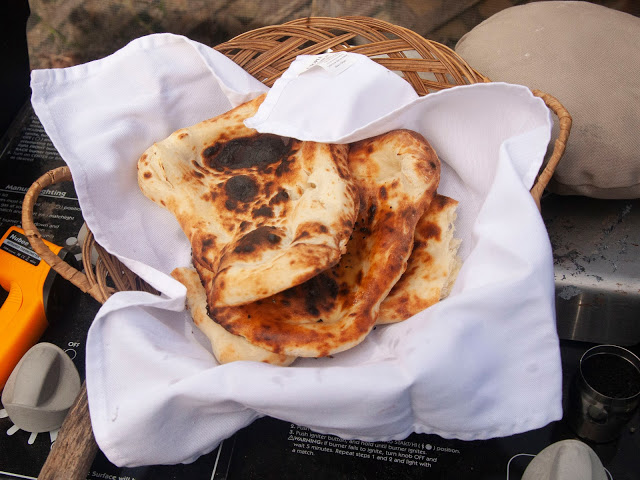 Also referred to as naan, Indian flatbread is a great alternative to other sources of carbohydrates. Typically, this bread is made with whole-wheat flour, resulting in a more earthy, wholesome flavor and texture. Not only are these flatbreads tasty, but they also offer a host of health benefits, including:
Weight Loss/Maintenance: Indian flatbread is such a rich source of dietary fiber, which is a special type of fiber that absorbs water and swells in the stomach, leaving you feeling fuller faster. This helps reduce hunger, decreasing the likelihood that you'll snack throughout the day. The fiber also helps to reduce subcutaneous fat and cellulite in women.
Cholesterol Control: Naan contains gluten. While gluten often gets a bad rep, but it's actually an important protein that helps control cholesterol levels and improve your lipid profile.
Blood Sugar Management: Because Indian flatbread is so high in dietary fiber, their glycemic levels are lower. That means the sugar content enters your bloodstream at a slower rate, preventing sugar spikes — especially among diabetics.
Micronutrients: Whole-wheat and -grain flours are packed full of essential micronutrients, including Vitamin B, zinc, iron, magnesium, selenium, and many others. Together, these micronutrients help aid in disease prevention and other bodily functions.
Indian flatbread is also incredibly simple to make. (Our guest chef, Kathy Gori, shows exactly how easy it is in her naan recipe available on our blog.) And, you can easily customize your flatbread dish by adding healthy toppings to create a healthy naan-style "pizza."
Tandoori Chicken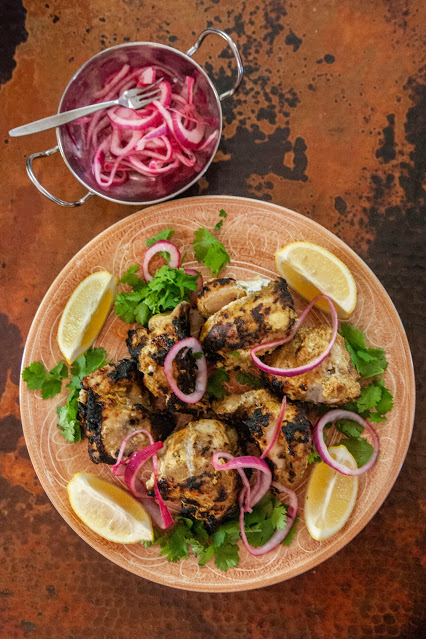 Tandoori chicken is a time-honored tradition in many Indian households for a reason: Packed with lip-smacking spices and flavorful juices, it gives you all the crunch and savory satisfaction of fried chicken without the negative health effects. Chicken is an excellent source of protein that helps your body burn fat more effectively. Like the dietary fiber present in Indian flatbreads, the protein in tandoori chicken also works to satiate your body, leaving you fuller for longer. Additionally, tandoori spice mixes contain incredible health benefits on their own, usually including such nutrient-rich spices as turmeric, cardamom, ginger, coriander, and cumin.
Before you go searching for "Indian food near me" to grab an order of tandoori chicken, it's important to note that in order to ensure maximum health benefits, you should prepare the dish yourself. This way, you'll be fully aware of any spices used and can avoid unhealthy sauces, flours, and calories. Plus, you'll be able to infuse a more authentic flavor by cooking up your meal in a tandoor oven at home (if you don't have one, grab one here).
Healthy Indian Desserts
Who said healthy eating means you have to sacrifice your sweet tooth? There are plenty of Indian sweet treats that can help satisfy your sugary cravings. One of our favorites is an Indian dish called tandoori ananas (pineapples), which Kathy introduced us to during her 100% Hōmdoor-made 2020 Pandemic Diwali Feast. These tasty treats are prepared by glazing the pineapple in a special mixture of high-quality honey (rich in antioxidants), fennel seeds, and a pinch of chili powder. Skewer the pineapple and place in your tandoor oven until slightly charred and enjoy — it really is that easy!
Cooking Healthy Food at Home with Hōmdoor
If you're looking to cut unhealthy food from your diet and explore a new style of healthy cooking, there's no better tool for your culinary journey than Hōmdoor's tandoor ovens. Our tandoors are carefully crafted from locally sourced clay right here in the United States, featuring an innovative design that super-heats food in the tandoori style while locking in juices for an unforgettable flavor. Grab your tandoor online and start cooking up these healthy Indian dishes in your home today!