It's that time of year again — grilling season, that is. As you uncover your tandoor and roll it out for the seasonal eats, you might find your BBQ game is a little rusty. Not to worry: Hōmdoor has the BBQ tips you need to prepare your tandoor for a summer full of grilling goodness. Let's get started!
Maintaining Your Tandoor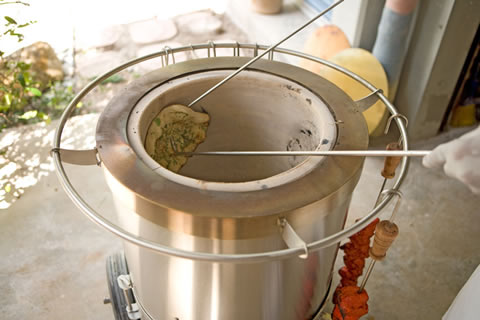 Most Hōmdoors will rarely need any maintenance due to the unique manufacturing process of our tandoor ovens. With other tandoors on the market are created from un-fired or under-fired clay, or concrete aggregate, ours are fully fired terra cotta. That gives them far superior strength and resilience.
Still, all clay-based ovens will inevitably experience cracking. If the cracks become a nuisance while using the tandoor, follow these BBQ tips to give your tandoor the TLC it needs:
Step One: Using Heat Stop brand refractory mortar, fill the cracks in the clay.
Step Two: Cover the crack with a skin coat of the Heat Stop mortar.
Step Three: Use a damp sponge to seal up the full interior of the clay pot.
One great way to help avoid cracking is by properly storing your tandoor during the off season. You can either opt to store it indoors in your garage, or by using a Hōmdoor cover to help it withstand the outdoor elements. In fact, the cover is a great companion to have during the grilling season as well since it provides extra protection in the event of inclement weather.
BBQ Tips for First-Time Tandoor Use
If you just purchased a new tandoor and have never used one before, or you are still getting used to the intricacies of cooking in a tandoor, you'll need to prepare accordingly. Rather than setting the temperature to where you need it to be for cooking purposes immediately, bring the temperature up slowly, waiting a good 20 minutes before applying further heat. If you're using a burner, check the flame to ensure it is blue and strong. Should the flame appear yellow and smoky, relight it until you get a good blue flame.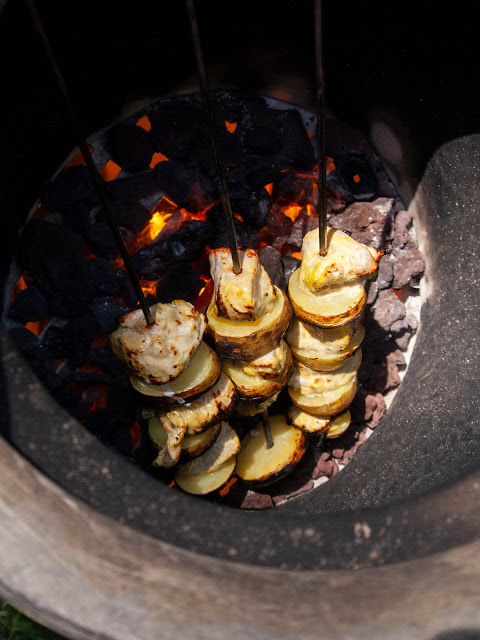 Until you've mastered the art of cooking up your favorite tandoori treats, it's a good idea to continue bringing the heat up slowly. This helps ensure that you're cooking food to the proper internal temperature. For instance, if you're cooking chicken, you want it hot enough to get a nice char on the outside, but not so hot that it burns the outside while it's still raw in the center.
One BBQ tip that can't be overstated enough is be prepared.
Cooking in a Hōmdoor is a very hands-on experience: Whether you're cooking up naan bread or tasty tikka masala, you need to keep an eye on your food and have all ingredients ready to go so everything cooks to perfection and you don't burn your meal.
There is definitely a learning curve when using a tandoor for the first time, so have fun with it! Be prepared to make some mistakes (like maybe dropping a bit of meat from your skewer into the flame), but by the end of your first BBQ, you'll be ready to fire up your clay oven again in no time.
Seasoning Your Tandoor Grill
Some pit masters out there might have plenty of BBQ tips about the importance of seasoning your grill. We at Hōmdoor, however, don't believe that seasoning the tandoor with oil and spices adds much to the cooking experience. The natural juices and spices that collect at the bottom of your clay oven during the tandoori cooking process contribute more to the flavor of your meal than would any spices that were applied directly to the tandoor. Every cook has their secrets, and there isn't really any harm in trying to come up with your own secret seasoning. However, we don't recommend doing so since there isn't much to be gained.
Bonus BBQ Tip: Use Your Tandoor Tools!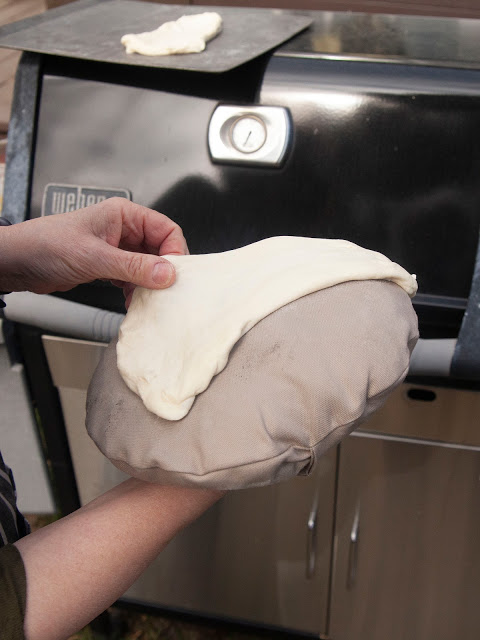 Everyone should use caution when cooking with high heat as it can be dangerous. That said, your Hōmdoor comes with the tools you need to safely cook at these high temperatures. The gaddi pad will allow you to stick your naan without using your bare hands while the bread tools allow you to remove the naan without burning. Our skewers have wood handles that provide extra protection from the hot steel that rests in the cooking area. We also recommend using our infrared thermometer to ensure you cook all meats to the appropriate temperature. This handy tool allows you to check the internal temperature of the meat without having to stick your hand inside the tandoor and risk getting burned.
Get Vertical with Your Grill!
Now that you've some important BBQ tips you need to become the next neighborhood grill master, all that's left to do is stock up on the tools of the trade. Explore our available residential and custom install tandoor ovens along with our available grilling accessories to help make this year's BBQ season the best one yet!