Diwali 2021 is right around the corner, and we all know what that means: It's time to feast! Indulging in the flavors of India is one of the greatest ways to celebrate the festival of lights. But for those celebrants that are gluten-free, it can be difficult to find options that satisfy their dietary restrictions. Whether you're living a gluten-free lifestyle or have GF dinner guests arriving for your Diwali 2021 celebration, the following gluten-free Indian food recipes are sure to delight.
Gluten-Free Naan Recipe
One of the greatest sacrifices that gluten-free foodies must make when it comes to any meal is bread. Thankfully, there are plenty of determined chefs out there who have conjured up gluten-free naan bread recipes so close to the original flavor that even native Pakistani, Izzah, from Tea for Turmeric can't tell the difference. Her gluten-free recipe for naan bread is super simple and easy-to-follow, and our team adapted it to include instructions for cooking in the tandoor. Here's what you'll need to get started: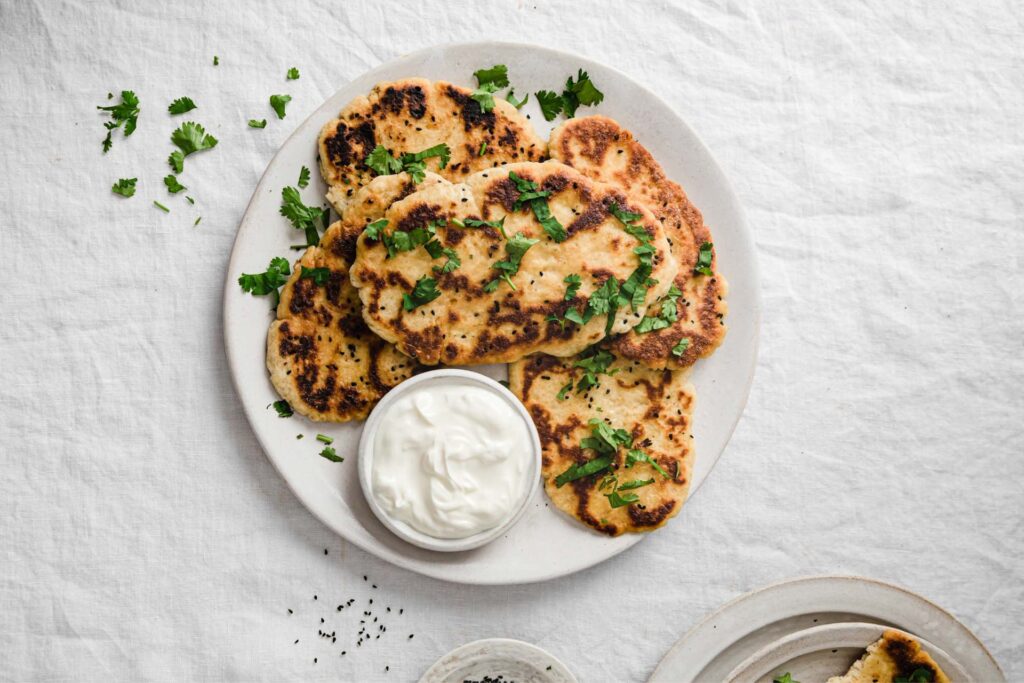 Dry Ingredients
1 cup multi-purpose, gluten-free flour blend
½ cup almond flour or cassava flour (or other gluten-free flour of choice)
1 tsp xanthan gum (leave out if your flour contains this already)
1 and ½ tsp baking soda
1 tsp sugar
¾ tsp salt
Wet Ingredients
1 tbsp flaxseed meal (or one egg)
½ cup plain whole milk yogurt
¼ cup or less (preferably warm) water or milk
1 tbsp olive oil
Melted butter (for brushing)
Once you've gathered your ingredients, it only takes 30 minutes of your time to achieve the perfect Indian flatbread for your Diwali 2021 feast. Mix together either your flaxseed meal and water or flaxseed and egg, then combine your dry ingredients in a separate medium-sized bowl. Add in the yogurt and oil to the flaxseed mixture and stir until well-combined. Mix in the dry ingredients, kneading the dough as you go, and add in the warm water a little bit at a time. Continue kneading until the dough is soft, then cover and set aside for 15 minutes.
After your 15 minutes is up, divide the dough into six equal-sized balls, rolling it out to form the naan flatbread. Set your tandoor oven to 550º F, using the laser thermometer to ensure the grill has reached the appropriate temperature. Place the flattened naan dough on your gaddi pad, slapping the dough onto the oven wall once it's reached the proper temperature. When the dough starts to bubble and char after a few minutes, remove it with your bread tools, using the bread hook to pry the naan from the wall. After all the naan is cooked, brush it with a bit of butter or ghee and serve.
Classic Chicken Tikka Recipe
Nothing says "Indian food" quite like this classic chicken dish. Packed with authentic flavor, chicken tikka is an excellent item to add to your Diwali dinner menu. What's even better? This dish just happens to be 100% gluten-free. Grab 2 pounds of chicken and the ingredients below to get cooking:
Dry Ingredients
1 tsp cayenne pepper
1 tsp turmeric powder
1 tsp garam masala
Salt to taste
Wet Ingredients
1 and ½ tbsp ginger/garlic paste
1 fl. oz lemon juice
1 cup yogurt
First, cube your chicken into equal pieces. Combine your wet and dry ingredients to create the marinade, then coat the chicken and refrigerate for at least two hours before cooking. Heat your Hōmdoor to 550º F. While your tandoor is heating up, skewer the chicken onto your rods, leaving about one inch of space in between each piece. Cook for 12 – 15 minutes until the chicken is lightly charred. You can always use your laser thermometer to check the internal temperature and ensure the chicken is cooked all the way through.
Tandoori Shrimp Recipe
Many traditional Diwali dinners include some form of fish or seafood entrée as part of the main course. Tandoori shrimps aren't just a tasty take on time-honored tradition, but this gluten-free Indian food is a great option for those living with dietary restrictions. Add the ingredients below to your shopping list, then follow along with the recipe developed for us by Kathy Gori of The Colors of Indian Cooking: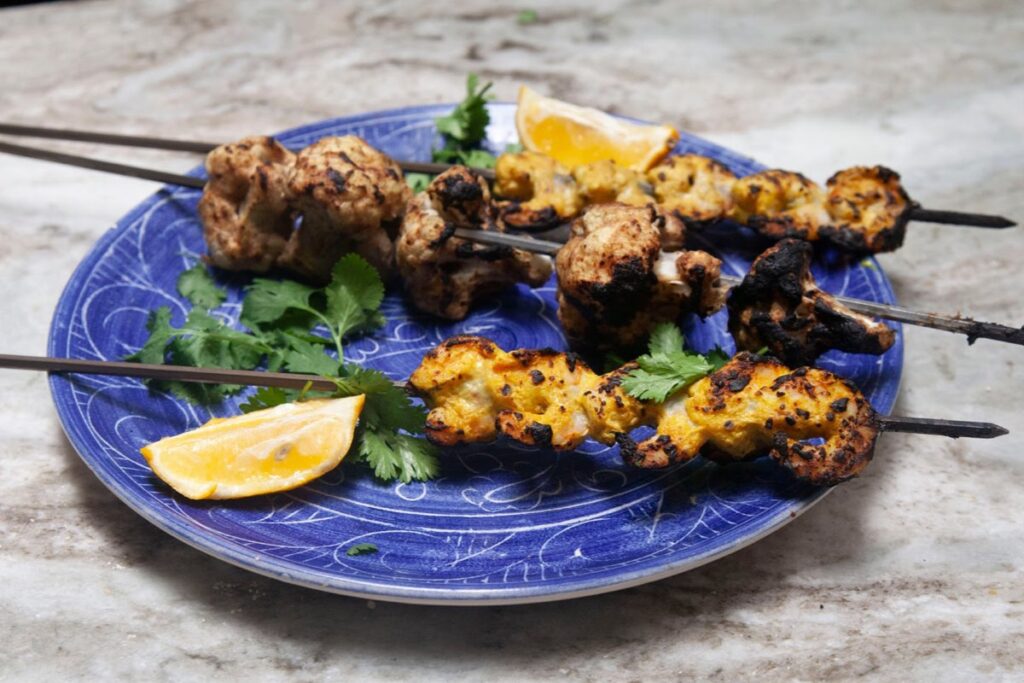 Dry Ingredients
4 tbsp garbanzo flour (or other gluten-free flour of choice)
2 and ½ tsp Kashmiri chili
2 tsp turmeric
2 tsp ground cumin
2 tsp ground coriander
½ stick cinnamon
½ tsp cardamom seeds
1 tsp cumin seeds
1/8 tsp nutmeg
½ tsp ground ginger powder
½ tsp methi seeds (fenugreek)
½ tsp ajwain seeds (caraway)
2 tbsp ground masala powder
½ tsp ground black pepper
Salt to taste
Wet Ingredients
2 and ½ cups yogurt
1 tsp ginger paste
1 tsp garlic or shallot paste
In addition to the ingredients listed above, you'll also need one pound of de-veined, de-shelled, uncooked shrimp. Begin by mixing together the cinnamon, cardamom seeds, cumin seeds, nutmeg, ground ginger powder, methi seeds, and ajwain seeds to create the tandoori masala. Set the mixture aside, then grind together the ginger and garlic/shallot paste and set aside for later. Toast 2 tsp of garbanzo flour by placing it in a small pan and heating until it turns darker.
Combine the paste, ½ cup of yogurt, toasted garbanzo flour, vegetable oil, ½ tsp Kashmiri chili powder, black pepper, salt, and two tbsp of the tandoori masala mixture you just created in a bowl. Peel and devein the shrimp, and coat them in the paste mixture to marinate for 15 minutes. Thread the shrimp onto your skewers and place them in the tandoor after it's reached 700º F. Cook until lightly charred, then remove and serve with lemon wedges.
Make Gluten-Free Indian Food All Year with Hōmdoor!
Whether you're planning a Diwali feast or are looking for a way to bring authentic Indian food right to your home all year, Hōmdoor has the tandoori grill you need to create gluten-free Indian meals that will leave your friends and family begging for seconds. Discover the joy of tandoori cooking by shopping our tandoor ovens and grill accessories online today!