Indian Independence Day is coming up on August 15, and there's no better way to celebrate the occasion than by firing up the grill and trying out a new tandoori BBQ recipe. Tired of serving up the same old dishes each year? Try out these top three BBQ foods that are sure to make your Indian Independence Day a hit with all your guests!
What is Indian Independence Day?
Every year on August 15, India celebrates its independence from British rule, which ended in 1947. This day also marks the anniversary of the partition of the subcontinent into two counters: India and Pakistan. Because this separation occurred at midnight on August 14 – 15, Independence Day is celebrated on August 14 in Pakistan while it is celebrated on August 15 in India.
Independence Day in India is not unlike the traditional celebrations one might see in America for the Fourth of July: Indian flags are raised proudly and citizens sing the Indian national anthem. Additionally, a variety of cultural programs are held throughout the nation's capital, and a large parade takes place from the Red Fort historic monument in Old Delhi. Kite-flying, dancing, and — of course — delicious Indian cuisine easily make this celebration one of the best days of the year in India.
Popular BBQ Food for Indian Independence Day Celebrations
Like all great holidays, Indian Independence Day boasts a tremendous spread of traditional dishes that will have your tastebuds begging for more. Among these, the following BBQ foods are some of the most popular to serve up on August 15:
Recipe #1: Tricolor Paneer Tikka
For an especially patriotic dish, tricolor paneer tikka is tough to beat. Spicy, flavorful, and festive, this tandoori-grilled dish is a must-have at any Indian Independence Day celebration. Here's what you'll need to bring the paneer to the party:
1 pound paneer
Curry leaves
1 and ¼ tablespoon cashew nut paste
1 abd ½ tablespoon mustard oil
¾ teaspoon mustard seeds
For marinade:
Salt
2 tablespoon garlic paste
3 tablespoons extra virgin olive oil
2 teaspoon red chili powder
¾ teaspoon yellow chili powder
1 and ¼ tablespoon cheese cubes
1 and ½ dash spice cardamom
2 and ½ tablespoon mint
4 and ¾ teaspoon green chili powder
2 tablespoon ginger paste
2 tablespoon lemon juice
1/3 cup and 2 and ¼ tablespoons hung curd
¾ teaspoon garam masala powder
3 and ¼ dry red chili
1 and ½ teaspoon fresh cream
½ teaspoon white pepper powder
3 and ¾ tablespoon coriander leaves
¾ teaspoon kasoori methi leaves
1 and ½ tablespoon chaat masala powder
To prepare your dish, first cut the paneer into six equal cubes and set aside. Take a large mixing bowl and combine the salt, lemon juice, olive oil, ginger, and garlic paste until smooth and pasty. Add in the paneer pieces to begin marinating.
You'll need to make three different types of paneer tikkas to achieve the tricolor effect: saffron red, white, and green. For the red mixture, combine together two tablespoons of the hung curd, red chili powder, garam masala, and yellow chili powder in a large mixing bowl. Sautee the mustard seeds, dry red chilis, and curry leaves in the mustard oil and add to the marinade.
For the white marinade, add half a tablespoon of hung curd, cashew nut paste, cheese, fresh cream, cardamom powder, white pepper, and fennel powder. Mix well and set the bowl to the side. The green marinade will require you to mix together the green chili, mint, kasoori methi, and coriander leaves by grinding them together. Combine this paste with 1 and ½ tablespoons of hung curd, mustard oil, lemon juice, and chaat masala powder.
Remove the paneer from its marinade and redistribute them equally among the three different colored marinades you just prepared. Allow them to sit in the marinade for at least 30 – 60 minutes. Fire up your Hōmdoor to 500 – 550º F and skewer on the paneer in the order of the Indian flag colors (orange, white, green). Let cook for 7 – 8 minutes until slightly charred, then serve.
Recipe #2: Vada Pav
One of the most popular street foods in India, vada pav is a timeless classic that you'll need to have at your Indian Independence Day celebration. Here's what you'll need to gather to get started:
Garlic coconut chutney
Green chutney
Tamarind chutney
Tandoori aloo
Buns
Traditionally, vada pav is created by making each type of chutney individually, then making the vada (spiced potato balls). In our version, however, you'll follow the instructions to make each chutney, then use our tandoori aloo recipe to prepare the potatoes. Once the potatoes are finished cooking, mash them up, then form them into balls and fry them in oil after coating in chickpea butter. Finally, heat up your buns (pav), apply all three chutneys to both sides, and place the potatoes (vada) in between the two buns. Voila — you have tandoori vada pav!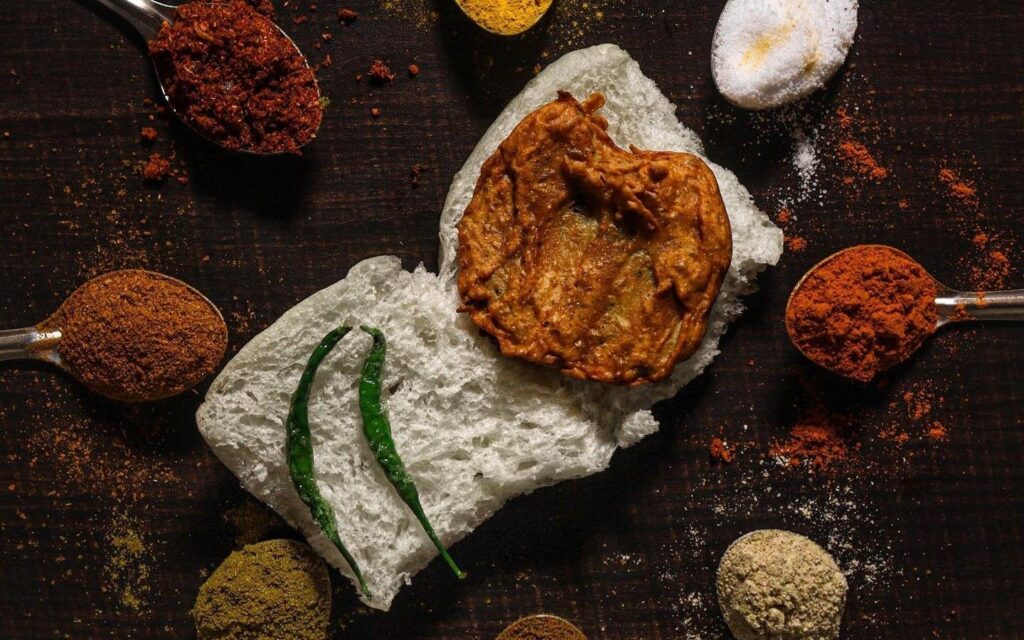 Recipe #3: Amritsari Kulcha
Yet another classic Indian dish to celebrate Independence Day with is Amritsari kulcha. This is essentially a potato-stuffed naan recipe that is positively divine. First, you'll need the following ingredients:
4 cups all purpose flour
2 tablespoons oil
Salt to taste
2 teaspoons active dry yeast
2 tablespoons sugar
2 cups warm whole milk
2 lbs boiled potatoes
3 tablespoons chopped coriander
1 tablespoon green chili paste
1 tablespoon chaat masala
1 teaspoon garam masala
You'll begin by making the dough: To do this, place the warm milk, oil, yeast, and sugar in a bowl mixing well. Cover the mixture and keep it in a warm place for approximately 10 minutes until it gets a little foamy. In a large mixing bowl, take the flour and salt and mix them together. Add in the milk mixture and knead it into a soft dough for approximately 5 – 7 minutes. Once kneaded thoroughly, grease a bowl and place the dough inside of it, applying some additional oil on top. Cover the dough with plastic wrap and let it sit for an hour (or until it doubles in size).
Next, you'll make the stuffing. Gather the potatoes, coriander, green chili paste, chaat masala, garam masala, and salt, and mix them together in a bowl. Divide the potatoes into 12 equal sized balls and set aside. Preheat your tandoor to 500º F. While waiting for the tandoor to heat up, dust a working surface with a bit of all-purpose flour and take out the dough to knead it out. Divide the dough into 12 equal sized balls. Take one ball and press it out a bit, then place the stuffing ball in the middle. Close the dough around the stuffing, pinching the sides closed. For each stuffed ball, you'll then spread the dough using your finger or a rolling pin to form a thick paratha. Using your gaddi pad, stick the stuffed dough onto the side of your tandoor, letting it cook for one to two minutes. Grab your bread tools to carefully remove the Amritsari kulcha from the tandoor. Serve with your choice of butter, chole, sweet chutney, or curd.
Celebrate Indian Independence with Hōmdoor!
The greatest part of Indian Independence Day is having the opportunity to showcase your national pride, and what better way to do that than through authentic Indian cooking? Bring Indian BBQ food to your backyard by grabbing your very own tandoor oven through our online shop today!